Hello everyone!  We hope you are all well.  Today is a special double feature, to make up for last week.  So enjoy!
The first blog we are giving a shout out to is Avalon.  It's an adorable blog that will make you chuckle as you fall in love with the cartoon pictures drawn that highlight all of those catty things that make you chuckle.
About the author, illustrator and cast by the author and illustrator:
About
I'm Avalon (nickname: Lion), a 10-year-old Turkish Van cat named after the Mamoru Oshii movie with the same name. Apart from being the star of this online cartoon series, I'm also an actor. I had my first movie appearance in the horror film The Strangers Outside.
This is my mom, Vanessa Morgan. She helps me to invent new stories for this website. She's the author of the supernatural thrillers Drowned Sorrow and The Strangers Outside. Fans and critics call her 'the female version of Stephen King', but she doesn't realize yet that I'm the famous one in the family. Check out her website and books at http://vanessa-morgan.blogspot.com/.
This is Allan Beurms. He draws my stories for this website. He's an illustrator, graphic designer, video editor and he makes amazing theater costumes with his brother. Movies and old motorcycles are his passion. Go and have a look at his website http://www.allanbeurms.com./
This cute little thing is Borat (but everyone calls him Ratti or The Rat). He used to be my guinea pig, but unfortuntaly he passed away July 2010. Borat is one of the recurring characters in this cartoon series.
Our second blog is…
Awaiting Angel this is the second cat-licious blog for the day.  Chocked full of the musings of a cat owner with great pictures and product reviews.
THE FAMILY
Darcy
Age: 5 years
Breed: Maine Coon
Alias: Sasquatch, Squatch, Marcy, Moo-Moo, Pretty Girl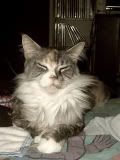 Gabriel
Age: 6 months
Breed: Mixed Domestic (Moggy)
Alias: Gabe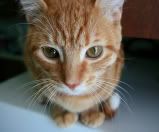 About the author by the author:
I'm a mommy to two sweet girls and one angel in Heaven. I have two furry kids, my kitties. I run a charity and craft my way through my grief and to keep my daughter's memory alive. The Blog 'Hiding Scars in my Yarn' is my personal blog. And 'Awaiting Angel' is my pet blog.
Check out our two great pet blogs for the day! You will be glad you did.
Connect with Us on Social Media: